As your big day approaches, it's important to remember the role your mom has played in making everything come together flawlessly. Your wedding day is not just a special day for you, but also for your mom. She has been dreaming about this day just as much as you have, and her love and support throughout the wedding planning process deserve to be recognized. A thoughtful and personalized gift is the perfect way to convey your gratitude and love. To help you find the perfect gift, Vanessa and
When Freddie met Lilly
other experts have rounded up some of the best ideas that range from sweet and sentimental to unique and practical. It's all about finding something that reflects your unconditional love and support for your mom. But before you present the gift, timing is key. Choose a moment when she can fully appreciate it, perhaps during a quiet moment before the wedding festivities begin. This will allow her to truly soak in the sentiment behind the gift and express her emotions without any distractions.
When it comes to wedding gifts for parents, it's important to choose something that will make your mom feel special and pampered. Consider including a handwritten note expressing your love and gratitude, along with the gift, to make it even more meaningful.
Remember, this is a time to show your mom how much you appreciate all that she has done for you. She has been there every step of the way, offering guidance, support, and unconditional love. So take this opportunity to thank her with a gift that speaks volumes about your appreciation and love. So let's dive into the 12 best gift ideas for the mother of the brides.
1. Mother of the bride candle:

This mother-of-the-bride gift is truly one-of-a-kind! It's designed to evoke special memories of your wedding day every time she catches a whiff of the nostalgic wedding scents available, such as Magnolia & Ocean Breeze, Peony and Wedding Cake. But what makes it even more special is the heartwarming message displayed on the candle. This message will serve as a constant reminder of your love and appreciation for her. It's a unique and sentimental gift that will surely touch her heart. Every time she lights the candle, she'll be transported back to that beautiful day. 
2. Dazzling diamond necklace: 

When it comes to a gift for your mom from the bride, jewelry never fails to impress. While extravagant pieces to wear on the wedding day are wonderful, there's something truly special about this delicate gold necklace adorned with brilliant-cut diamonds. Its timeless design allows your mom to effortlessly incorporate it into both her wedding attire and everyday outfits. This necklace exudes sophistication and radiates with a sparkling beauty that perfectly reflects your mom's elegance. This diamond necklace will look so stunning either your mom wear V neck line dress or off the shoulder dress. It's a gift that she will cherish for years to come, serving as a constant reminder of your love and appreciation.
3. Personalized MOB Mug:
Surprise your mom with this must-have MOB gift—a beautiful mug adorned with her special title and a charming floral design. It's the perfect companion for the morning of your wedding, whether she prefers an elegant all-glass option or a classic white ceramic style. Fill it to the brim with her favorite coffee or tea, ensuring she starts the day off right. This thoughtful gift will not only make her feel appreciated, but it will also serve as a cherished keepsake from your special day. Give her a delightful way to sip and savor the precious moments leading up to your wedding.
4. Marble Picture Frame: 
Surprise your mom with a breathtaking marble picture frame—a truly unique and exceptional gift for the Mother of the Bride! The natural beauty and elegance of marble make it a standout choice. Its luxurious texture and timeless appeal will beautifully showcase your wedding photo, creating a cherished keepsake. Every glance will remind her of the special bond you share and the precious memories of your big day.
5. Personalized Perfume:
Your mom is going to love this fragrance! It has a light, pretty scent and comes in a stunning bottle with a ribbon. The best part? You can personalize it with her name, making it extra special. She'll feel pampered and loved every time she spritzes on this fancy fragrance. It's the perfect gift for the Mother of the Bride!
6. Heart Shape Ring Dish:
I've got the perfect gift idea for your beautiful mom of the bride. This cute ceramic ring dish is designed in a square heart shape, making it both adorable and sentimental. It's a lovely way for your mom to keep her rings safe and display them with pride. The ceramic material adds a touch of elegance, and it's a heartfelt reminder of your special bond. 
7. Fancy Candle:
Do you know fancy candle makes the best mother-of-the-bride gift? It's true! Gifting a luxurious scented candle or a personalized one with a heartfelt message is a thoughtful and relaxing present. It's a perfect way to create a cozy atmosphere for your mom to unwind and enjoy. 
8. Personalized mother of the bride bracelet:
One of the best gift ideas for the mother of the bride is a personalized bracelet. This handmade beauty is crafted with love and features a stainless steel bangle, a stainless steel quote charm, a stainless steel heart charm, and a birthstone. What makes it truly unique and beautiful is the personalization. You can choose a quote or message that holds special meaning for your mom, making it a heartfelt and cherished keepsake. It's a gift that she'll treasure forever! 
9. Personalized handkerchief for MOB:
Imagine your mom's joy as she wipes away tears of happiness on your wedding day with a beautiful personalized handkerchief. This unique and one-of-a-kind keepsake will surely bring her to tears. You have the opportunity to make it even more special by choosing the trim style—whether it's lace, scallop, or straight—and writing a custom message that comes straight from your heart. It's a thoughtful gesture that will be cherished forever, and it's sure to bring lots of pre-wedding hugs and heartfelt moments.
10. Flower Statement Earrings:
Picture your mom wearing these stunning statement studs on your big day. Crafted from brass and finished with 18K gold, they exude elegance. The wedding-white hue adds an extra touch of beauty. These earrings would make a perfect mother-of-the-bride gift, adding a touch of glamour to her ensemble and making her feel extra special. She'll shine as she supports you on your special day. It's a thoughtful and stylish gift that she'll treasure for years to come.
11. Beautiful Fur Jacket: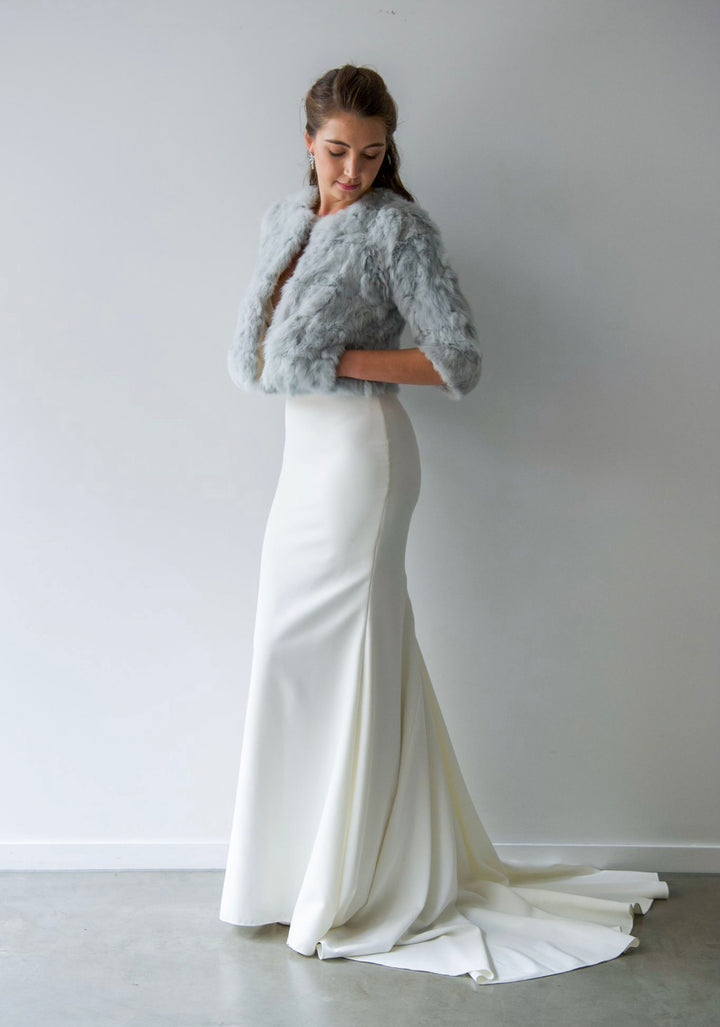 The enchanting Lizzie Beth Rabbit Fur Jacket in Snowy Grey is truly one of the best gifts for the mother of the bride. This exquisite piece not only adds a touch of style to her wardrobe, but also provides cozy comfort during those chilly winter nights. This fur jacket is beautiful tiful for any type of occasion either you want ti wear this with sleeves, off the shoulder or long sleeves dress, it will look stunning. t's a perfect combination of fashion and warmth that she'll absolutely adore.
12. Personalized sleepers for mother of bride:
Personalized wedding slippers are such a great idea for a mother of the bride gift! These spa-style hotel slippers can be customized with special wording, making them extra special. They're perfect for wearing on the morning of your wedding or during a fun hen weekend. Not only are they comfortable and light on your feet, but having matching slippers for the family members adds a lovely touch. It's a thoughtful and practical gift that your mom will appreciate as she gets ready for your big day.
What's the best time to give your mom a gift?
When it comes to giving your mother-of-the-bride gift, the timing depends on the nature of the present. If it's something she'll use on the wedding day, like personalized hankie,or a earrings, the rehearsal dinner or wedding morning are ideal moments. Find a time when you can focus solely on her, without distractions. Alternatively, if it's a commemorative gift, such as a framed photo from the big day, you can present it shortly after the wedding. This allows for a special post-wedding moment to reflect on the memories. Ultimately, choose a time that feels meaningful and allows you to express your gratitude and love for your mom.
What can be the great gift for the mother of the bride?
For the mother of the bride, a fabulous gift idea is something she can wear on the wedding day, such as a stunning piece of jewelry or a luxurious fragrance. If you want to make it extra special, consider a personalized option like a wine glass with a cute MOB-related saying etched on it. Practical gifts are also a great choice, like a wellness gift for some much-needed relaxation. Remember, the most important thing is the thought and love behind the gift. Choose something that reflects your mom's personality and she'll cherish it forever.